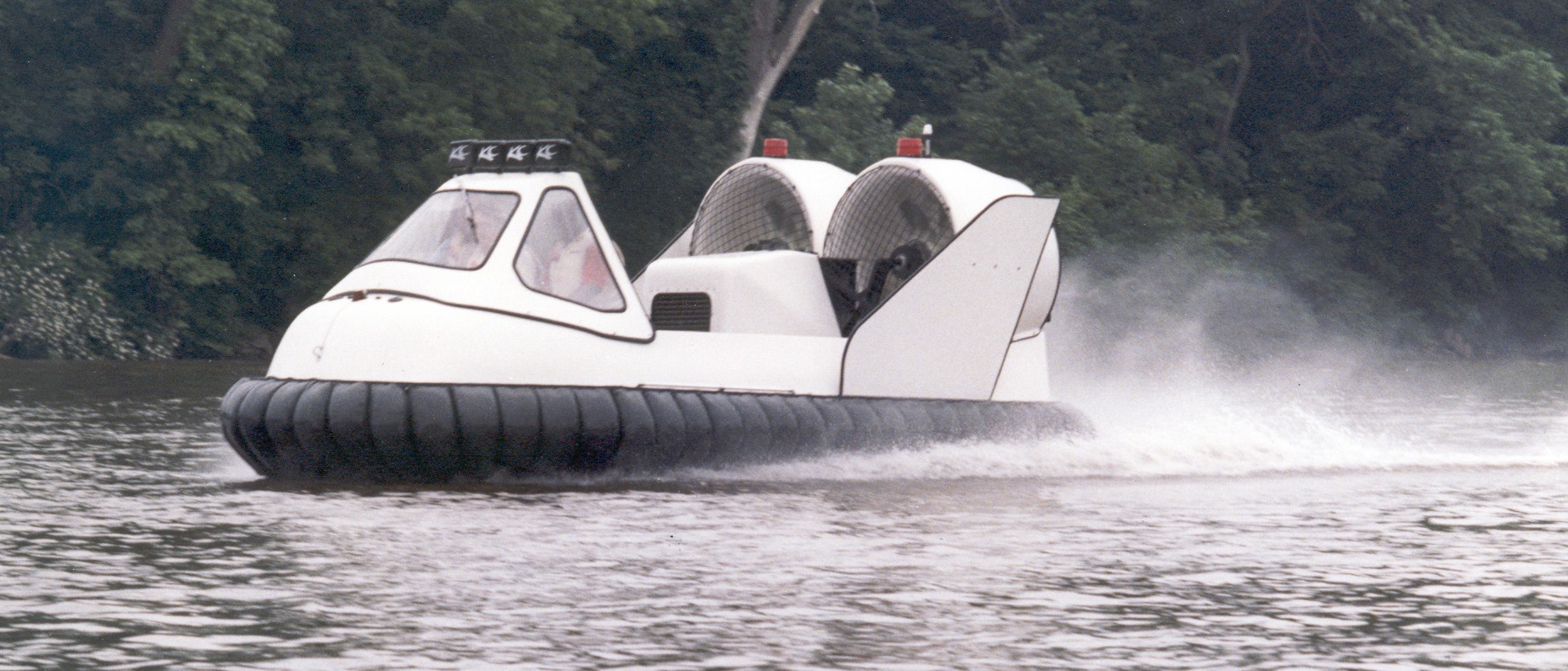 Hoverguard 800

Features and Options

Hovercraft

Payload (standard equipment):

850 lbs

(340 kg)

Hull:

16' long x 8' wide (4.88 x 2.44 m)

Choice of Hull Colors:

RED/WHITE

Speed:

35 mph (56 kph) on calm water,

60 mph

(96 kph) on smooth ice

Max Wave Handling Capacity:

2 ft (60 cms)

Turning Capability:

180 and 360 degree turns on land, ice and water
Standard equipment:
General Motors 4-cycle, V8 multi-port, fuel injected engine
12v electrical system with 90 amp alternator
Dual 850 ccca batteries with battery master switch giving OFF-1-BOTH-2 positions
Thrust system: Twin 39" (99 cms) ducted twelve blade fans driven by Goodyear Eagle® Kevlar® Vee-tooth cog belts; air straightener arrays; ten cable-operated air rudders and removable fanguards
Electric actuator controlled splitter plates with dash mounted rocker switches allowing variable lift and thrust settings for speed and cushion control on the move
Integrated lift and thrust air system with Hypalon® coated skirts, rear mounted drag flap, six hardened aluminum replaceable skid rails
Fiberglass bottom hull made of hand lay-up woven roving plus sealed polyurethane foam liner with high freeboard sides
Woven roving fiberglass inner hull with glossy gelcoat finish.
Flat non-skid cockpit floor 5' x 10' (1.52 m x 3.05 m) overall with 18" (45 cms) high cockpit sides
Two triangular vinyl cushion seats mounted one on each side of centerline cushion crew seat and stowage module.
Crew protection windshield comprising rigid fiberglass gel coat structure with large curved windshield, two side windows with short roof plus windshield wiper and washer system.
Fast-reaction handle bar steering, twist grip throttle
Hinged access instrument panel with tachometer, hourmeter, engine oil pressure gauges, coolant temperature gauge, two fuel gauges and voltmeter
40 US gal (150 l) capacity fuel tanks
Four mooring eyes, one bow eye and one rear winching eye
Twin strobe flashers (red, blue or amber), all-round light on ducts and red/green bow light
Four 2 ft stainless steel grab rails, two collapsible grapple poles, two ring buoys.
Two 2,000 gph (7,500 l/hr) bilge pumps
Options:
Stainless steel dual muffler
Removable vinyl cockpit enclosure
Combined siren and public address system
Heater-defroster
Heavy-duty lift eyes for raising craft with a hoist
Night rescue lighting package
Stationary hover system
Interior cockpit lighting
Aluminum decking over basic decking to withstand impact loads
All Kevlar® bottom hull
Non-standard color
Thunder® T3 hearing protection
Mustang® survival suits and vests
Special options available on request (GPS, radio and intercom equipment, special seating)
---
See what first responders say about our rescue hovercraft.
Customer Testimonials
---