Hoverguard (HG) 2000

Features and Options

HG 2000 hoverguard hovercraft powered by GM Marine Power V8 engine, 366 cu.in. (6 liter) V8 multi-port/fuel injected performance engine, electronic ignition, 360 HP at sea level; 12v electrical system with 90 amp alternator. Dual 985 cca batteries with battery master switch giving positions 1, 2 and off.
Hull Length: 22' (6.70 m)
Hull Width: 8.2' (2.52 m)
Hovercraft Payload with standard equipment:

2,210 lbs

(1002 kg)
Choice of Hull Colors: RED/WHITE/YELLOW/BLACK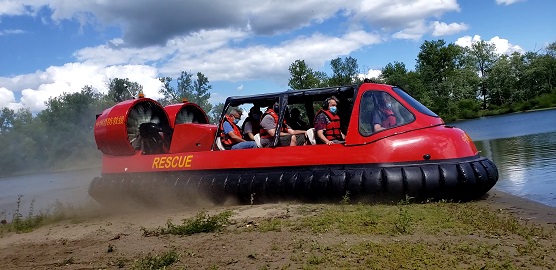 Standard equipment:
Standard Equipment:
Thrust system comprising: twin 39" (990 mm) ducted, twelve blade fans with air-straighteners driven by two Goodyear Eagle Kevlar Vee tooth cog belts. Ten cable-operated rudders and fans enclosed by removable FanGuards. Electrically controlled lift system and electric push button switches allowing variable lift and thrust settings for speed and cushion control when moving. Lift system position is shown on instrument panel.
Integrated lift and thrust air system with Neoprene-Coated® nylon skirts, and solid glass skid pads. Hull made entirely o f hand-laid cloth and chopmat and buoyance Marine quality 2.2 lb density polyurethane foam.
Woven roving fiberglass Body and chop mat with glossy gelcoat finish. Flat cockpit floor 5' x 15' overall with 18" high cockpit sides. All weather partial cockpit cover comprising of gelcoat and rigid fiberglass structure and large curve windshield, two side windows and short roof, plus windshield wiper and washer system.
Standard Seating comprises center-mounted pilot's cushion seat, one triangular side seat on each side of pilot, 2 rows of 4 seats behind the pilog; total 10 to 12 seats not to exceed 2,210 lb. (1002 kg) payload. Optional seating arrangements are available. Consult with our engineering department.
Steering/Fuel Capacity Handle bar steering, twist grip throttle; Hinged instrument panel with:
Tachometer,
Hour Meter,
Engine Oil Pressure Gauge,
Coolant Temperature Gauge,
Voltmeter,
1 Fuel Gauge,
50 US gallon (300 lb. total) capacity Fuel Tank,
6 lifting and tie down eyes, inside body, with bow and rear winching or lifting eye,
One cockpit bilge pump (500 gal/hr)
Lights Yellow flashing emergency light (US Coast Guard Certified) with white all-round navigation light on duct. Red port and green starboard lights.
Additional Two side mounted grab rails and two extendable oars with boat hook ends.
Payload with standard equipment listed above: 2210 lbs. (1002 kg), Twin Fan