Hovertour 2000

Features and Options

HOVERTOUR 2000 hovercraft powered by GM Marine Power four-cycle, 350 cu.in. (5.7 liter) V8 multi-port/fuel injected performance engine, electronic ignition, 250 HP at sea level; 12v electrical system with 90 amp alternator. Dual 875 cca batteries with battery master switch giving OFF-1-Both-2 positions.
Hull Length: 22' (6.70 m)
Hull Width: 8' (2.44 m)
Hovercraft Payload with standard equipment:

1,500 lbs

(682 kg)
Choice of Hull Colors: RED/WHITE/YELLOW/BLUE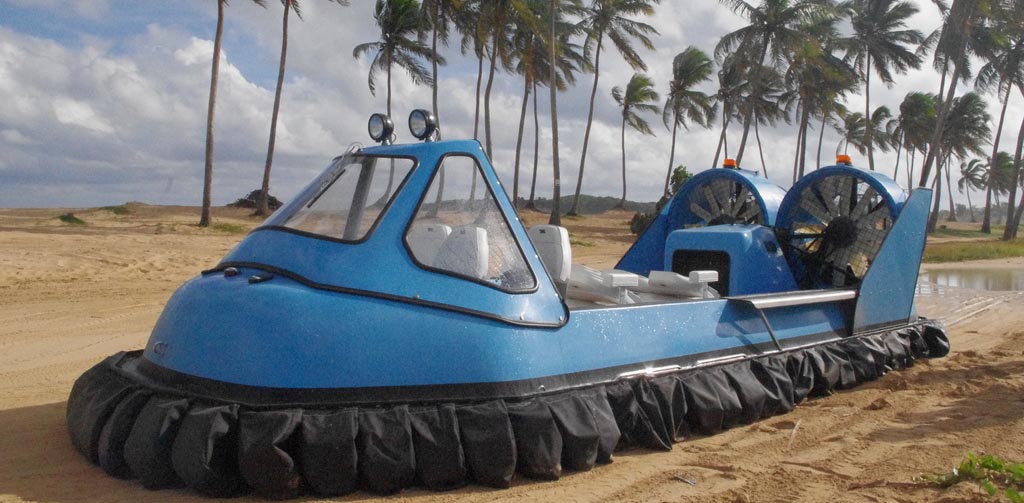 Standard equipment:
Standard Equipment:
Thrust system comprising: twin 39" (990 mm) ducted, twelve blade fans driven by Goodyear Eagle Kevlar Vee-tooth cog belts; air-straightener arrays; ten cable-operated air rudders and removable fanguards. Electric actuator controlled splitter plates with dash mounted rocker switches allowing variable lift/thrust settings for speed and cushion control on the move. Electronic displays on instrument panel show position of splitters.
Integrated lift and thrust air system with Hypalon® coated skirts, rear mounted drag flap, six hardened aluminum replaceable skid rails. High impact and high strength fiberglass bottom hull made entirely of hand lay-up woven fiberglass plus sealed honey-comb polypropylene and polyurethane foam liner with high freeboard sides.
Woven roving fiberglass inner hull with glossy gelcoat finish. Flat cockpit floor 5' x 15' overall with 18" high cockpit sides. All-weather windshield comprising rigid fiberglass, gelcoat structure with large curved windshield, two side windows with short roof; plus windshield wiper and washer system.
Standard Seating comprises center-mounted pilot's cushion seat with backrest; one triangular side seat on each side of pilot; centerline back-to-back bench seat for six persons facing sideways.
Fast-reaction handle bar steering, twist grip throttle, hinged access instrument panel with tachometer, hourmeter, engine oil pressure gauge and coolant temperature gauge; voltmeter, dual fuel gauges, 40 US gallon (150 l) capacity fuel tanks. Four mooring eyes, one bow eye and one rear winching eye.
Twin strobe flashers (amber), white all-round light on ducts; red/green bow light. Four 2ft stainless steel grab rails.